HotForex Review 2022
Is Hotforex broker good for traders in Kenya? Let's find out.
HotForex is one of our recommended broker for Forex Trading in Kenya. HotForex is a global forex & CFD broker that has been in the market for more than ten years now.
HotForex is also regulated with CMA in Kenya, this makes them a low-risk forex & CFD broker.
HotForex provides trading services in many other CFD instruments apart from Forex and has both retail and institutional clients. Hotforex is one of the largest forex brokers in the world in terms of daily FX trading volume. They claim to have over 2,000,000 live account clients.
If you are in a hurry, we have listed quick pros & cons.
Hotforex Pros
Regulation:

Regulated by CMA.

Fees:

Their trading fees is low.

Local Deposit:

Accepts deposit from Local Banks in Kenya.

Base Currency:

Traders from Kenya set KES as base currency.
Hotforex Cons
Islamic account:

Not offering Islamic Account

Base Currency:

Low number of base currencies.

Support:

Chat not available 24/7.
Hotforex is a 100% STP Broker. An STP (Straight Through Processing) broker will pass a client execution order directly to its liquidity provider. In other words, the broker will not be filtering the orders through any dealing desk and has a Market Execution policy.
Hence, all the orders will be executed in the live market conditions and at the real market prices. In short, the absence of a dealing desk (No Deal Desk or NDD) is what makes the broker's trading platform STP, and more transparent without any intervention. So there is no conflict of interest like in case of market maker brokers.
Hotforex provides good trading conditions and fast order execution. And they also provide good customer service, with quick live chat as per our tests.
We looked into different services and features like safety and regulation, fee structure, account types, trading instruments, trading platforms, etc.
Here's why we think Hotforex is the best broker for traders in Kenya and why we recommend it. Use the below index to find the desired information regarding Hotforex.
HotForex – A quick look
👌 Our verdict

#4 Best Overall Forex Broker in Kenya

🏦 Broker Name

HFM Investments Limited

💵 Average EURUSD Spread

1 pip

(with Premium Account)
📅 Year Founded
2010
🌐 Website
www.hotforex.co.ke
💰 Minimum Deposit
Kes. 550 ($5)
⚙️ Maximum Leverage
1:400
⚖️ Regulation(s)
CMA (Kenya), FSCA (South Africa), FCA (United Kingdon), CySEC
🛍️ Trading Instruments
Forex, CFDs on Cryptos, Metals, Indices, Shares Commodities
📱 Trading Platforms
Hotforex MT4 and MT5 for PC, Mac, Web, Android
📒 Demo Account
Yes
💰 KES Base Currency
Yes
Is Hotforex Safe?
Let's start with the regulation of Hotforex. Hotforex is regulated by a number of regulatory bodies from across the world. But they are not regulated with Kenya's regulator CMA.
Below are the three top tier regulations under which Hotforex is regulated:

Safety of Funds
Hotforex is also a very safe broker to invest the funds with because it has opted to safeguard its liabilities against clients and other third parties with a Civil Liability insurance program for a limit of €5,000,000. This insurance covers risk through errors, omissions, negligence, fraud, and other financial risks which may lead to financial losses.
Hotforex also makes an effort to practice Segregation of funds by receiving Client funds into separate bank accounts, separate from the company account. These client accounts are off the records and are not taken into consideration in the balance sheet. Hence it cannot use the Client funds to pay back the creditors, in case of an unlikely event of default of the company. These points provide an added confidence and assurance to the clients to choose Hotforex as their broker.
HotForex fees
There are mainly four types of fees that Hotforex charges to its clients in different cases:
Spread: Hotforex charges the lowest average spread when compared to the other brokers. For example, for a major currency pair like EURUSD, the typical spread/fees charged on a Premium account is 1 pips per standard lot.

Commissions: Commissions are charged on Zero account, which is a low-cost option with tight spreads. The fees charged is a sum of the spread and the commission on per Round turn. For example, for a EUR/USD pair, the fees would include a spread of 0.3 pips per lot and a commission of US$6 for a Round turn per lot.
Rollover: A rollover fees is typically charged by all the brokers. It is basically the interest charged or earned for holding positions overnight (i.e. open positions). It is calculated based on the difference of interest rates of the two traded currencies. Buying a currency with higher interest rate and selling the lower interest rate currency would typically earn you rollover fees.
Deposit & Withdrawal fees: Hotforex does not charge any fees on deposit and withdrawals. If any fee is charged, it would be by the payment gateway vendors, bank or the credit card company. Hotforex doesn't cover these charges.
Apart from this, there is not much clarity on charges for account inactivity for any maintenance or administrative fee.
Hotforex is a broker with minimum fee requirements and has low spreads and commissions, no deposit or withdrawal fee.
It is highly recommended and is a tested broker for both first timers and experienced traders.
HotForex Account Types
Hotforex provides six types of accounts apart from a Demo account.
HotForex Demo Account
The Demo account is like a trial account with dummy money which can be created for practicing one's trading strategies. There are many advantages of the Demo accounts.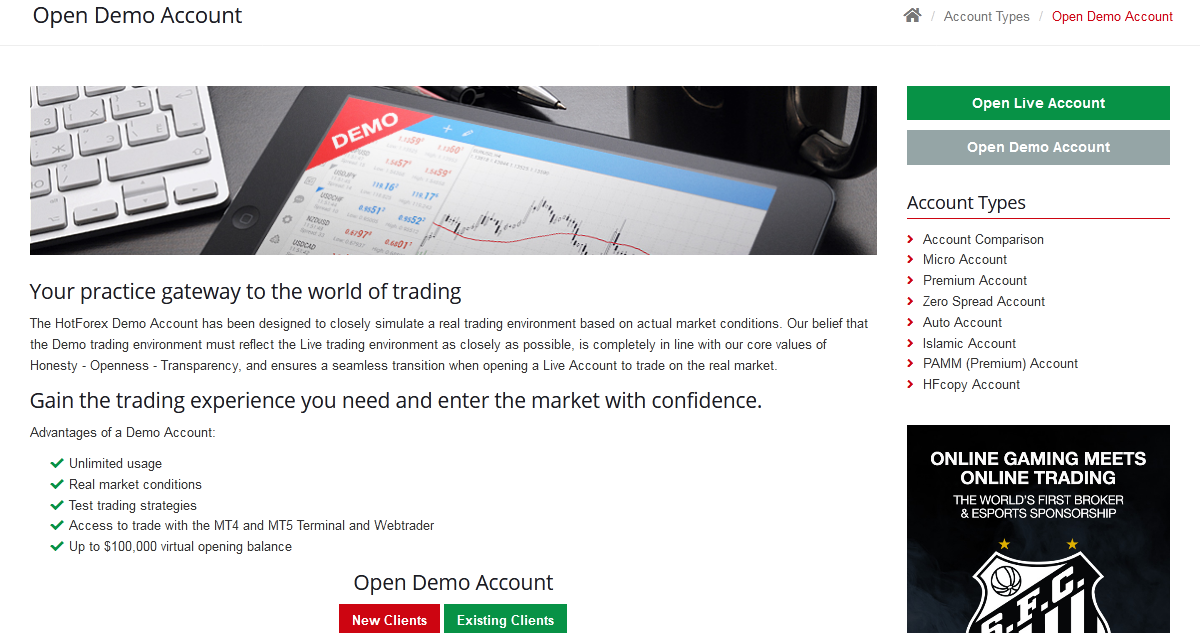 These are just like live accounts with real market pricing, and unlimited usage, access to the MT4 & MT5 terminal and Webtrader platforms. There is a virtual opening balance of $100,000.
Now let us look at three live account types, Micro, Premium and Zero for a benchmark currency pair of EUR/USD.
HotForex Live Trading Accounts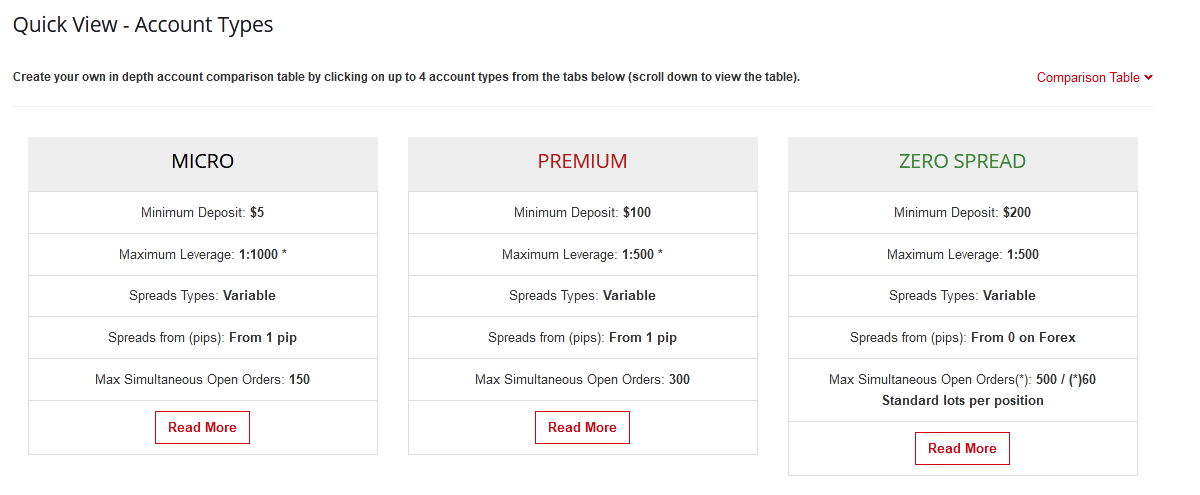 Micro Account: Micro Account has a minimum deposit requirement of KSh550 or US$5, provides a maximum leverage of 1:400, and is charged with a typical spread of 1 pip per standard lot for major pairs. There is no commission charged in this account.
Premium Account: This account comes with a minimum deposit requirement of $100 or KSh11000, provides a maximum leverage of 1:400 and a typical spread of 1 pip per standard lot is charged. This account too has no commission charges.
Zero Account: Starting with account requires a minimum deposit of KSh22000 or $200, with provision of maximum leverage of 1:400. There is a commission charge on this account and the total fees charged include a spread of 0 pips on EUR/USD pair and a US$6 commission on a Round Turn per lot.
HotForex Trading Instruments
There are a variety of trading instruments offered by Hotforex for your trading needs. Let us look at them in detail:
Forex: Forex is one of the most traded instruments and Hotforex has a total of 50 forex pairs to trade, with some of the lowest spread in the market. There are currently 15 major pairs and 35 minor pairs on offer. Although some brokers offer higher numbers of FX pairs, this is still a wide variety of currencies for forex trading, compared to many other brokers.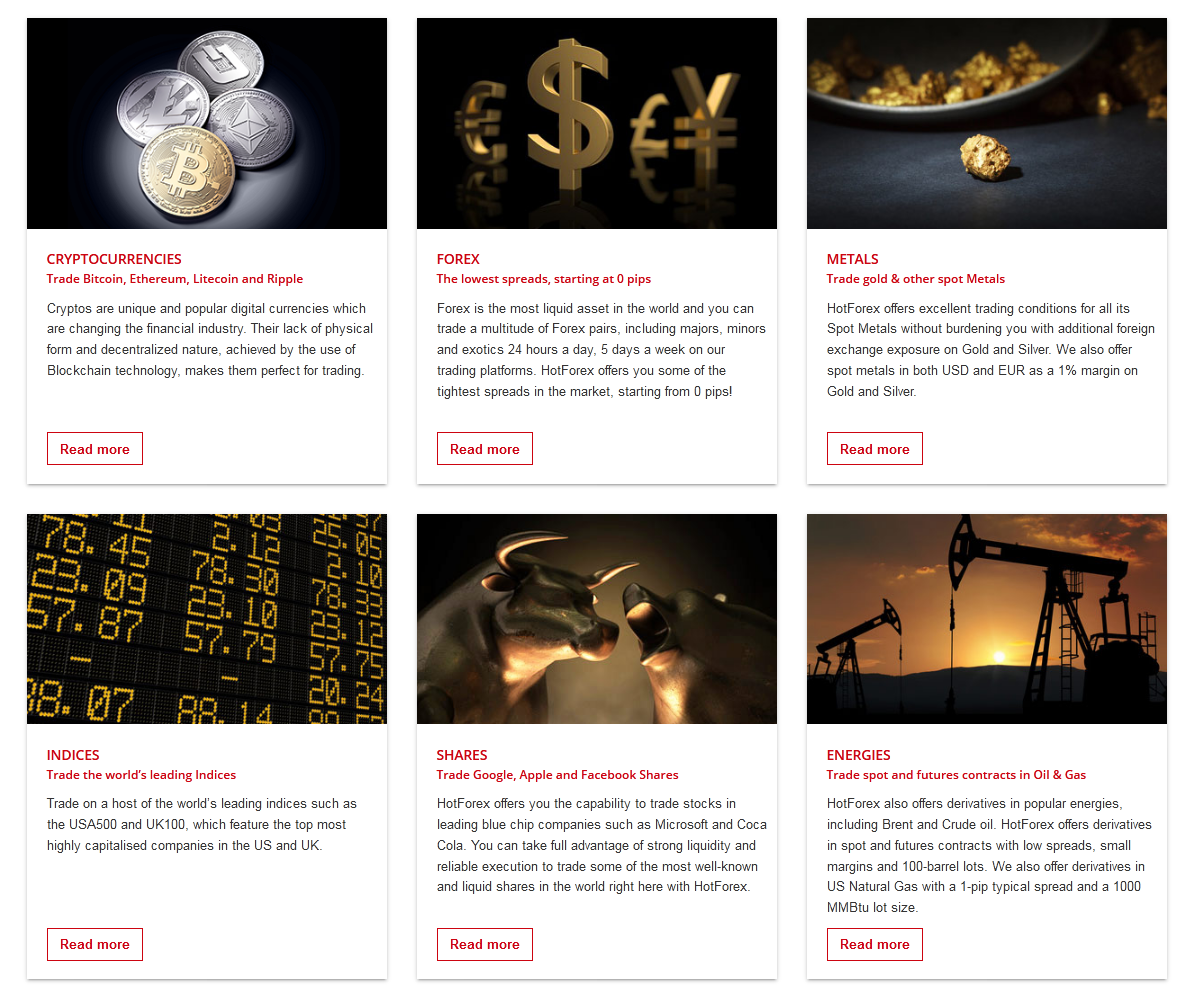 Metal CFDs: Hotforex provides perfect trading conditions for Spot metals with additional features of Spot with a 1% margin on Gold and Silver CFD trading. There are at present four Spot contracts for metals trading.
Energy CFDs: Hotforex provides CFD trading on Oil and Gas with low spreads of Spot and Futures contracts. They offer small margins in oil and gas trading. There are two Spot contract specifications and three Futures contract specifications to select from.
Commodities CFDs: Commodity trading can be done on Hotforex for Spot contracts in Palladium and Platinum and for Futures contracts in Cocoa, Coffee, Cotton, Copper and Sugar. Hotforex doesn't charge commission on commodities and there is a very low deposit requirement.
Indices: Hotforex provides a wide range of top global indices to trade from. There are 11 Spot contract specifications and 12 Futures contract specifications on offer for trading in indices. Contract expiry dates are also mentioned for client needs and decisions. This makes Hotforex quite a desirable broker.
Shares: Hotforex doesn't fall short here also as they provide trading in equities market, with the option to trade on shares of top global companies. There are 56 company shares available with Hotforex. As a broker, they have included the exchange name, too, on which the particular stock is listed. This information is quite helpful while trading.
Bonds: Hotforex provides its clients three types of bonds options to trade in. They are Euro Bonds, UK Gilt and US 10-year Treasury Note. Bond calculations are clearly explained and expiry date information is also provided.
CFDs on Cryptocurrencies: Hotforex provides trading options in Bitcoin, Ethereum, Litecoin and Ripple. Hotforex has 12 cryptocurrencies contract specifications.
HotForex Trading Metatrader Platforms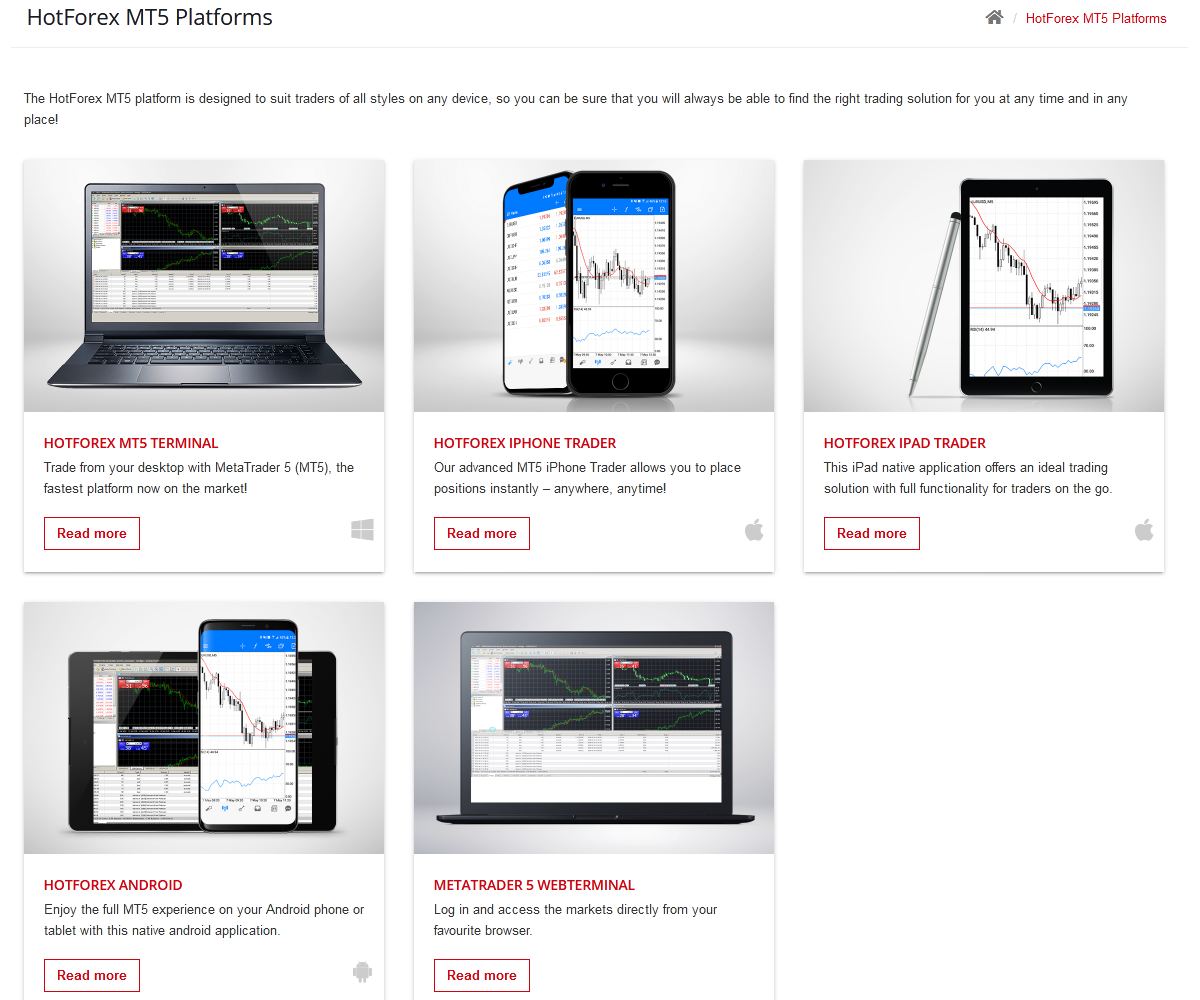 Hotforex provides its clients trading access on standard MT4 and MT5 platforms. Both the platforms have provision of access from desktop terminal, web terminal and on Android and iOS devices.
Apart from that, MT4 Multiterminal provides access to multiple accounts simultaneously. Both MT4 and MT5 have the required technical analysis tools and Expert Advisors options for better trading experiences.
HotForex Customer Support
The customer support at Hotforex is quite good for traders in Kenya. We tested their Live Chat & Email support.
Here are the methods for support available at Hotforex.
Live Chat Support: HotForex serve clients via Live Chat Support which is very good and quick responsive. You can contact them via Live Chat Support which is available 24/5 without any much response time.

Contact Form: They also provide contact form on their website to receive message from clients. You can also send an email at sup[email protected]. They normally replied within 1 hours maximum.
Phone Number: Anyone can call them at toll free number +44-2033185978 regaridng any query or issue. But there is no local phone number for Kenya's clients.
Do we Recommend HotForex Kenya?
Yes, we do as Hotforex is considered a trusted forex broker for trader in Kenya. Hotforex is one of the popular CFD brokers in the world that is well regulated by multiple top-tier regulators.
Features which make Hotforex stand apart are:
Highly regulated – Hotforex is regulated by 3 of the top global regulatory bodies, the FCA of UK, the FSCA of South Africa and CySEC of Cyprus. It would have been great if Hotforex was regulated by Kenyan Capital Markets Authority (CMA) too.
First hand customer service – 24/5 live chat support, fast and effective chat support, email support, as well as phone contact helpline.
Low and transparent trading fee – All the fees charged by Hotforex are one of the lowest in the market, with a clear calculation on the spreads and commissions. Unfortunately, there is not much clarity on the Account inactivity and maintenance charges though.
Variety of trading instruments options – There are plenty of instruments on offer for trading apart from Forex, with extensive details on the expiry dates, calculation of the margin requirements and notional along with examples.
Additional features – Hotforex also provides additional tools and education which help in better trading experience. Tools like VPS Hosting Services, Trading Calculator, Premium Trader Tools, Economic Calendar, Auto Trading, etc. aid trading in every way. The education part is also highly customized with e-courses, webinars, video tutorials and events.
Taking the above into consideration, we highly recommend Hotforex forex broker for traders based in Kenya.
Hotforex Kenya FAQs
What is the minimum deposit for opening account at HotForex?
The minimum deposit at HotForex is Kes. 550 ($5) for traders in Kenya if you signup with their Micro Trading account. With Premium Account it is Kes. 11000 ($100) & with Zero spread account it is Kes. 22000 ($200).
Is HotForex a Legit Forex Broker?
Yes, Hotforex is regulated by multiple top-tier regulations including FCA, FSCA & CySEC, so we consider them to be a trusted forex & CFD broker. But they are not regulated by CMA in Kenya for forex trading.
How long does it take to withdraw funds from HotForex?
The withdrawal time will depends upon the payment method that you will choose while submitting the withdrawal request at HotForex. If you will choose the bank wirw then the amount can take 2-10 days for crediting to your account. And the minimum amount you can withdraw is Kes. 11,000 ($100). For local method like Dusupay, the withdrawals are instant & minimum is 10 USD or Kes. 1000. There is no withdrawal fees.
Does HotForex accept MPesa?
Yes, traders can deposit & withdraw funds via MPesa at Hotforex. For this you need to login to your customer panel & click the 'Deposit' button on the right sidebar. You will see all the deposit options available for your account.