As a trader making an investment in Forex market, you must look for a broker that gives you secure environment & proper trading conditions without any conflict of interest. For this, it is very important to choose a broker that is regulated with local Kenyan Regulator (CMA) or reputed international regulators (like FCA, FSCA, CySEC or ASIC).
We have compared and listed brokers that matched our criteria for regulation, reputation, security, fees for Kenyan traders.
Show More
Comparison Table of Best Forex Brokers in Kenya
Forex Broker
Minimum Deposit
Lowest EUR/USD Spread
Regulation(s)
Max. Leverage
Available Instruments
Visit

Minimum Deposit:

$5 (≈KSh. 550)

Lowest EUR/USD spread*:

0 pips

Regulation(s):

CMA (Kenya)

Max. Leverage:

1:400 for FX, 1:100 for CFDs

Available instruments:

66 currency pairs, 150+ CFDs on Metals, Shares

Visit Broker

Hotforex

Minimum Deposit:

$5 (Kes. 550)

Lowest EUR/USD spread*:

1.3 pips

Regulation(s):

CMA, FCA, FSCA, CySEC

Available instruments:

53 currency pairs, and 100+ CFDs on Metals, Commodities, Cryptos.

Visit Broker

Exness

Lowest EUR/USD spread*:

0.3 pips

Regulation(s):

CySEC, CMA, FCA

Max. Leverage:

1:2000 for FX

Available instruments:

104 currency pairs, 100+ CFDs

Visit Broker

XM Forex Broker

Lowest EUR/USD spread*:

0.8 pips

Regulation(s):

ASIC, CySEC

Available instruments:

57 currency pairs, 1000+ CFDs

Visit Broker

FXTM

Lowest EUR/USD spread*:

1.5 pips

Regulation(s):

CMA, FSC of Mauritius, FCA, CySEC & FSCA

Max. Leverage:

1:2000 for FX with Standard Account

Available instruments:

59 currency pairs, 200+ CFDs

Visit Broker
8 Best Forex Brokers in Kenya
Here's our list of best forex brokers for Kenyan traders:
Scope Markets Kenya – Local Forex broker licensed by CMA
PepperStone Kenya – Good CMA Regulated Forex broker
Exinity – Regulated Forex Broker in Kenya with ECN Type accounts
Now we will explore the detailed features of each broker in our list, one by one, starting from Hotforex.
#1 FXPesa – Best Forex Broker in Kenya
Regulations: Capital Markets Authority (CMA) of Kenya
Minimum Deposit: $5
Available Platforms: Metatrader 4 for desktop, Web & mobile and FXPesa Mobile app
FXPesa is the brand of EGM securities which is the Kenya's first non-dealing online forex broker, based in Nairobi. They are authorized by CMA of Kenya (which is the local regulatory body), so we consider them as a safe broker for traders in Kenya.
FXPesa is a non-dealing desk (NDD) broker, which means that there is no conflict of interest. They provide market execution of trades with all their trading account. They offer 2 trading accounts: 'Executive' that required $5 deposit, it is a standard account without any commission & spread from 1.4 pips. The other account is Premiere ($100 deposit), which has lower spread from 0 pips, but there is $7 commission per standard lot for FX.
They offer 66 currency pairs, but their other CFD offerings are bit limited though.
FXPesa are a MetaTrader 4 offering broker, and latest MT5 or cTrader is not available with them. But they have their own platform which is available on all devices.
They have an office in Nairobi & local phone number for support. Their live chat is also very friendly & knowledgeable.
They offer funding in USD as well as in Kenyan Shilling (KSh.) via local bank transfer. But the account currency will be in USD. They also accept deposits & offer withdrawals via Mpesa & Airtel money.
#2 HotForex – Low spread & Regulated forex broker
Regulations: CMA, FCA (UK), FSCA, FSA
Minimum Deposit: Kes. 550 ($5)
Available Platforms: MT4 & MT5 platforms, WebTrader and Mobile trading
HotForex is our recommend forex broker for Kenyan traders. HotForex is regulated by CMA as a Non-dealing online forex broker with license no. 155 (regulated in 2021). They are also regulated by other Tier-1 & Tier-2 regulators such as FSCA of South Africa, DFSA of UAE, FCA of UK. This makes HotForex a low risk forex broker for traders in Kenya.
In terms of fees, they charge a low spread i.e. 1.3 pips on average for EURUSD with their Premium account, no deposit and withdrawal charges. The minimum deposit required to open a Micro account is $5, while the maximum leverage offered on this account is upto 1:400 (1:400 with Premium account for forex but depends on the trading instrument for other CFDs).
For low spreads, traders can open open Zero account with which the spreads start from 0 pips. The minimum deposit is $200 or Kes. 22,000 (depending on your account currency). The commission per lot with this account is Kes. 660 ($6) for majors & Kes. 880 ($8) for other pairs.
Traders at HotForex can open account in USD or KES as their account's base currency. Only a few brokers offer this feature. Also, you can deposit & withdraw in KES via MPesa (and other mobile money) or Local bank transfer in Kenya. They use the payment gateway Dusupay on their website, and the minimum deposit is Kes. 600 & Kes. 1000 is the minimum withdrawal. There funding & withdrawals via this method is instant, and there is no extra fees on funding & withdrawals.
Hotforex have a 100% deposit bonus for new customers in Kenya and great loyalty programs for existing clients.
They have a very good & quick live chat system for the clients as well. They also have a local office with address in Nairobi on their website. They also have local phone no. & email for support for Kenyan traders.
#3 Exness – Low Spread Forex Broker
Regulations: CySEC, FCA & FSA.
Minimum Deposit: $1
Available Platforms: Metatrader 4 and Metatrader 5 for desktop, WebTrader & mobile app.
Exness is a Cyprus based broker & they are one of the largest forex & CFDs brokers in the world in terms of trading volume. They are well regulated under multiple Top-Tier regulators including CMA, FCA, FSCA, CySEC, so we consider them a safe broker.
Given the fact that Exness is licensed with CMA in Kenya, so they are considered low risk broker. They were recently licensed under License No. 162.
Exness offers features like excellent support, low spreads, education through tutorials, strategies and free analysis tools.
Exness provides services for two types of accounts – Standard and Professional. While Standard account has a minimum deposit of $1 with minimum spread starting from 0.3 pips on EUR/USD currency pair, and Professional account requires a minimum account balance of $500. The maximum leverage offered for both accounts is 1:2000.
One of the major benefits with Exness is they have very low spread compared to most other competing brokers. Account types available help both newbies and pro traders. Other benefits include readily available support, fast executions, daily market reports, support from Expert advisors and meta trader plugin supports.
The spreads at Exness at competitive. For example, for major like EURUSD, the spread with Pro account (spread only, without commissions per lot), is 0.7-0.8 pips during normal trading hours. As per our tests, their spread is wider during Asian session & can be around 2 pips on average for EURUSD.
We found that Exness has market execution, so there are requotes during events, which is generally associated with higher volatility. Since the price is moving quickly during events, you would likely get requotes on Exness, so you should be aware of this when trading during volatile market condition.
The support at Exness is not very good. We found that their chat support is very slow in responding to queries, and there is normally delays of few minutes when connecting. Also, their responses to emails are very slow, and we got their response within few days (while other brokers normally respond within few hours).
#4 XM Forex – Low fees, good support
Regulations: ASIC of Australia, IFSC of Belize and CySEC of Cyprus
Minimum Deposit: $5
Available Platforms: MT4, MT5, XM Web Trader and mobile device platforms
XM Trading is another broker that offers low cost forex & CFD trading. There are more than 1000 instruments to choose from including forex, CFDs on precious metals, energy and indices.
XM are regulated with 2 top-tier regulators including CySEC & ASIC. But they are not regulated with CMA in Kenya, so they are considered riskier broker than other in our list. XM's trading fees is quite competitive, and they offer straight standard spread only trading accounts without any extra commissions. Their fees is lowest with their Ultra Low account.
Their trading accounts are quite straightforward. XM provides four account options. For Standard and Micro account, the required minimum deposit amount is 5 USD and gives a maximum leverage of 1:888. For XM Ultra Low account, the required minimum deposit amount is 50 USD with similar leverage. XM also provides a Share account for equity trading, with minimum deposit of $10,000 and no leverage.
The spread at XM is higher. During our tests, during normal market conditions, their typical spread is 1.8-2 pips for EURUSD with their Micro account. This is quite high when compared to other brokers. Their spread with Ultra Low account is competitive though, as normally the spread is 0.8 pips, which is competitive when compared to Pro accounts at other brokers.
So, if you are opening an account at XM, you should open Ultra Low account, as the fees with other accounts is not competitive, and this will cause your returns to be much lower.
Their support is also very good, and available 24/5 during the market trading hours. Plus they have free access to forex market education including their research, forex webinars, video tutorials and free daily technical analysis that is available to all their customers. Plus, they accept M-Pesa for account funding.
#5 FXTM – Good ECN Broker with low minimum deposit
Regulations: CMA (Exinity Group), FSCA, FCA, CySEC.
Minimum Deposit: $10 with Cent Account
Available Platforms: Metatrader 4 and Metatrader 5 for desktop and mobile and WebTrader.
The parent company of FXTM, Exinity Group (Exinity Capital East Africa) is regulated by CMA, so it is considered a safe forex broker to trade with for Kenyan traders.
FXTM is a Mauritius based both market maker & ECN account broker, which has features such as superfast order execution, regulated and licensed, quick client approval and education and tutorials.
FXTM offers two broad account options – Standard and ECN, both accounts having further sub-account types. The minimum deposit needed for a Standard account is $100 and spread starts from 1.5 pips for EUR/USD but there are no commissions on the standard account. While the ECN Zero MT4 & MT5 requires a deposit of $200 which has commissions of $4 per lot on ECN MT4 and ECN MT5 Accounts. Both accounts come with a maximum leverage of upto 1:2000.
They have real time access data from world's two largest stock exchanges NYSE & NASDAQ. Additional benefits include in-depth market analysis, tutorials through webinars and seminars. Additionally, FXTM also supports trading in Cryptocurrency.
#6 Scope Markets – Low fees Online Forex broker in Kenya
Regulations: CMA, FSCA.
Minimum Deposit: Ksh. 2000
Available Platforms:MT5 for desktop and mobile and WebTrader.
Scope markets (SCFM Limited) was the second forex broker that was granted license by CMA in 2019. It is considered a low risk forex broker for Kenyan traders because of their regulated by CMA.
Scope Markets also operates internation broker & is licensed by FSCA in South Africa since 2016.
Scope markets offer 2 account types – Gold & Silver. The Silver account is a standard account type with no commissions, but their average fees is quite high i.e. 1.7 pips on average for major like EURUSD. Their spread is much lower with Gold account, but there is a commission of $7 per Standard lot for roundturn.
The forex currency pairs & other CFD instruments at Scope Markets Kenya are very limited compared to other brokers like XM, Hotforex etc. Their support is decent.
How to choose the best forex broker in Kenya
There are some points that you must check in a broker before you choose them. Below is our points checklist that you can use an a guideline:
1) Regulation(s): It is very important to make sure that the forex broker you choose is regulated by CMA or other Top-tier regulations like FCA, FSCA or ASIC.
Regulated brokers can be held accountable for any bad practises like stop hunting, trading againt customers etc. But when you are trading with an unregulated broker there will be no Grievance Redressal in case the broker commits a fraud against you.
There are 9 forex brokers regulated by CMA as of Feb. 2023. You can search for these brokers by checking the "List of Licensees" on CMA's website. They normally update the list every month.
You can check the list of all the licensed forex brokers on the regulator's website. Most regulator's have a public search page, like the CMA have list of updated licensees that can be downloaded from their website.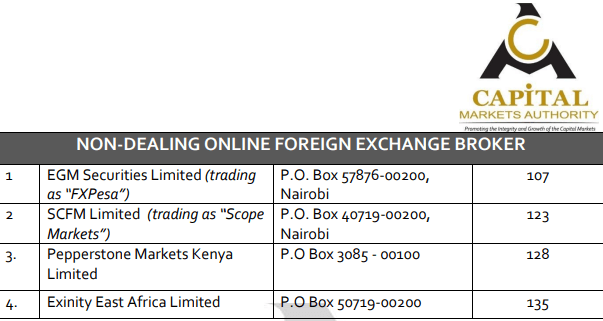 From this list you can find all the licensed forex brokers & their license number. This list is normally updated every month, so in case a new broker is licensed next month, or an existing broker has it's licensed revoked, then CMA will update their list too.
For ex. FXPesa is regulated for offering Forex Trading as Non-Dealing FX broker under License no. 107, Pepperstone Kenya is issued license no. 128, Scope Markets has License no. 123 & Exinity East Africa Limited (operates FXTM & Alpari) is 135.
The above example is the Regulation and Client Protection document as FXPesa which highlights their company name, Company Registration No. & other regulatory infomation.
2) Trading & Non-Trading Fees: Another important factor to check is the forex broker's 'overall fees'. We say overall fees because you should check both the fees charged for trading activities & also the other fees charged like in case of deposits/withdrawals or other commissions.
Some brokers may tell you that their spread is low, but may not tell the fact that they charge commission per trade or charge fees during withdrawals. Some forex brokers like FXTM charge withdrawal fees with some of their methods.
Let's take an example of FXPesa. During our tests we found that their overall fees is quite competitive. They have competitive spread from 1.4 pips with Premiere account type, and they don't charge any extra fees on funding or withdrawals. Also there is no inactivity fees.
Ask your forex broker about their overall fees. Most brokers will have a spread comparison table on their website.
Like this below table shows the example of FXPesa's spread.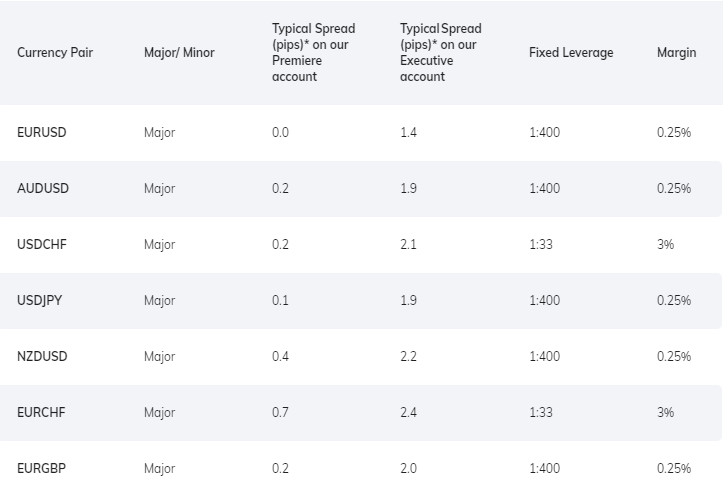 For checking the non-trading fees, you should check the fees charged for deposits, withdrawals, account inactivity etc. For example, we checked the funding & withdrawals fees at FXPesa.
They don't charge any fees if you are depositing & withdrawing locally via your bank account in Kenya. But if you are requesting a wire transfer, then there is a $15 fee per transfer.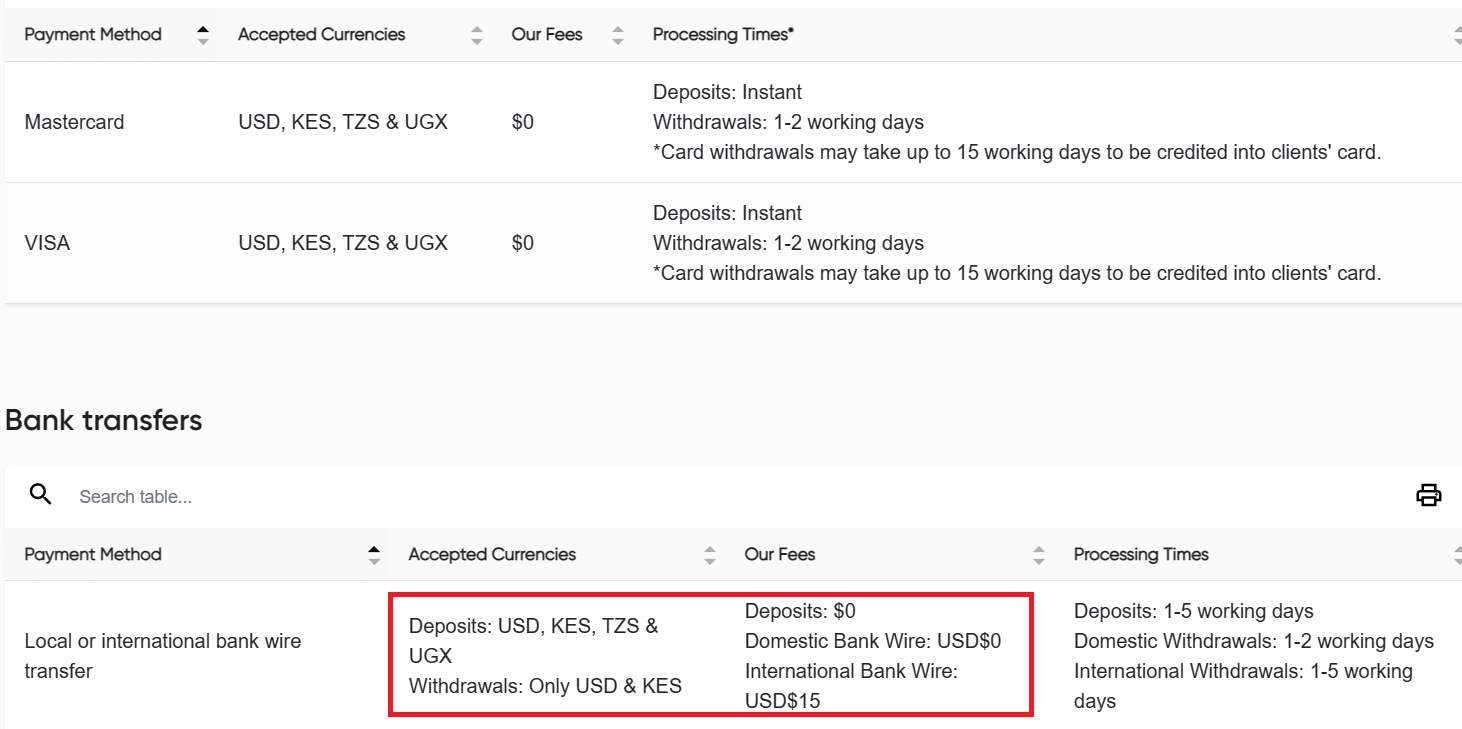 Similar to this, the brokers mention their Inactivity fees under their terms & conditions. Check the Terms page of the broker, and search for inactivity fees in that. Most of the forex brokers now don't charge inactivity fees to Kenyan traders, but some still do.
Generally, it is structure like this: if your account is not active (no trading activity for a period) for 30 days for example, then there is a charge for that period.
3) Number of Trading Instruments: Also check the number of CFD instruments available on the broker's platform. Is the instrument that you want to trade available or not?
Check the total no. of asset classes. A good broker will generally support trading CFDs on Forex, metals, indices, bonds, stocks & cryptos.
For example, you might want to trade CFDs on NASDAQ 100. In this case you should check if the broker offers CFD on "US Tech 100". We checked FXPesa's comparison table for this too.

Many other forex brokers like Exness, FXTM, Hotforex etc. offer wide range of trading instruments. But if thee is some specific instrument that you want to trade, then always check first if that is available with the broker.
Usually, all the brokers will have specific pages for the total number of instruments on their website. For example, below is the example from HotForex Kenya. They have a comparison table on their website for every asset class. Below is the screenshot of the table for List of Minor currency pairs.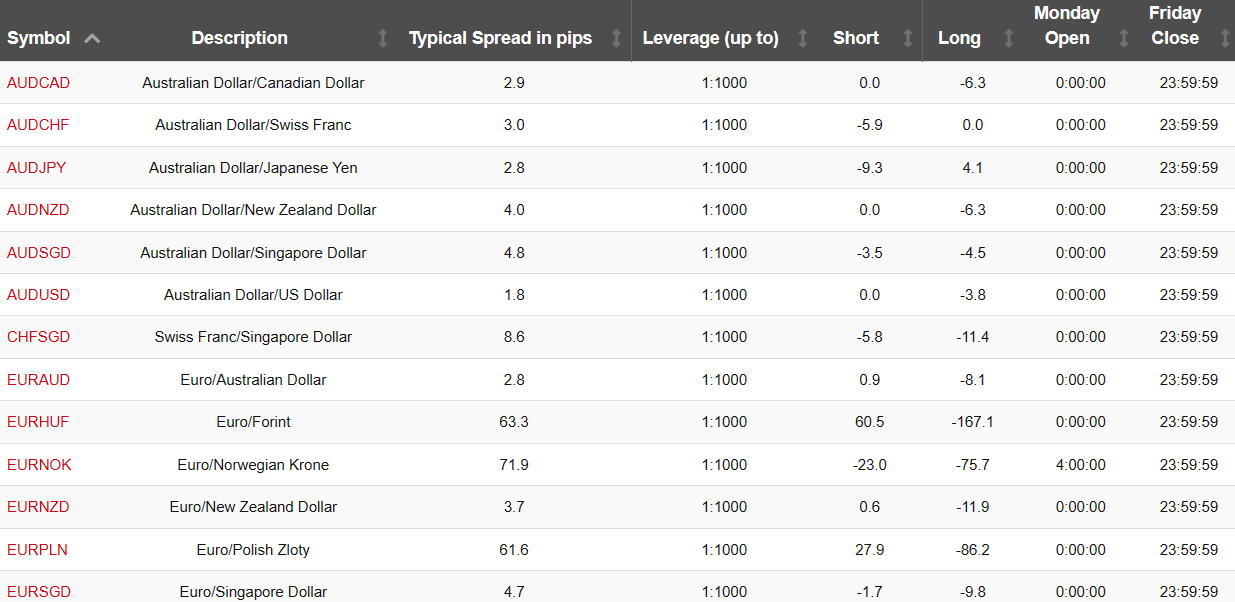 The table mentions the exact number of instruments, their typical spreads, trading hours etc. You will see similar comparison at other forex brokers as well.
4) Deposit & Withdrawals: Always check if your choice of deposit & withdrawal methods are available at the broker or not.
For example, M-Pesa & local bank transfers are the two deposit & withdrawal popular methods for traders in Kenya. Ensure that these methods are available at the forex broker you are choosing. Also check the time it takes for the broker to process the deposits & withdrawals.
This below comparison table shows the average withdrawal time for different methods available at FxPesa. Similarly all other regulated brokers will have similar page on their website.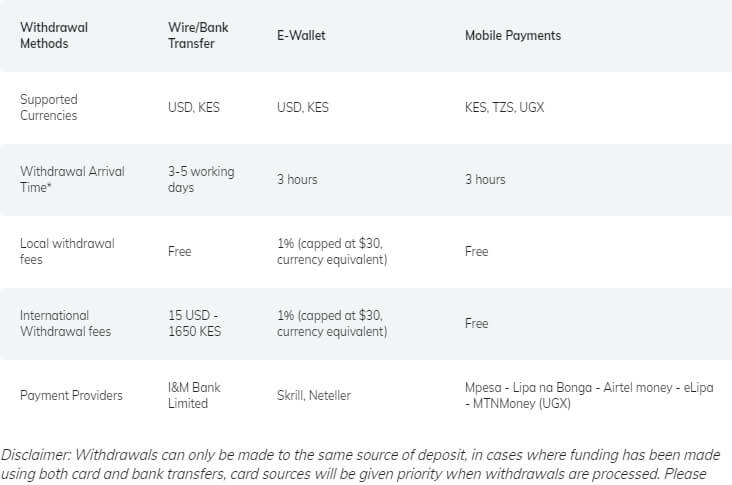 Also, always check the exact fees that you will be charged for withdrawals & funding with a method. For ex. FXPesa charges 1% (capped at $30) for withdrawals in E-Wallets like Skrill. But there are no extra charges for withdrawal in Bank account in Kenya, and Mobile Money like MPesa.
5) Customer Support: Availability of 25/5 customer support is really important as you never know when you might need help. It could be related to any issue from withdrawals, to general queries.
It is impossible to know how good a broker's support is unless you test it. We tested it by contacting different brokers via various support channels. As a general rule, look for forex brokers that have a local office & offer local phone number in Kenya where you can call.
Normally, all the local forex brokers in Kenya that are regulated with CMA would have a local address & contact no. on their website.
Let's see HotForex as an example. They are regulated with CMA, and they have have listed the Kenyan contact details on their website. You can check the broker's support by contacting on that phone no. or by sending an email. See how good the broker is in responding to your questions.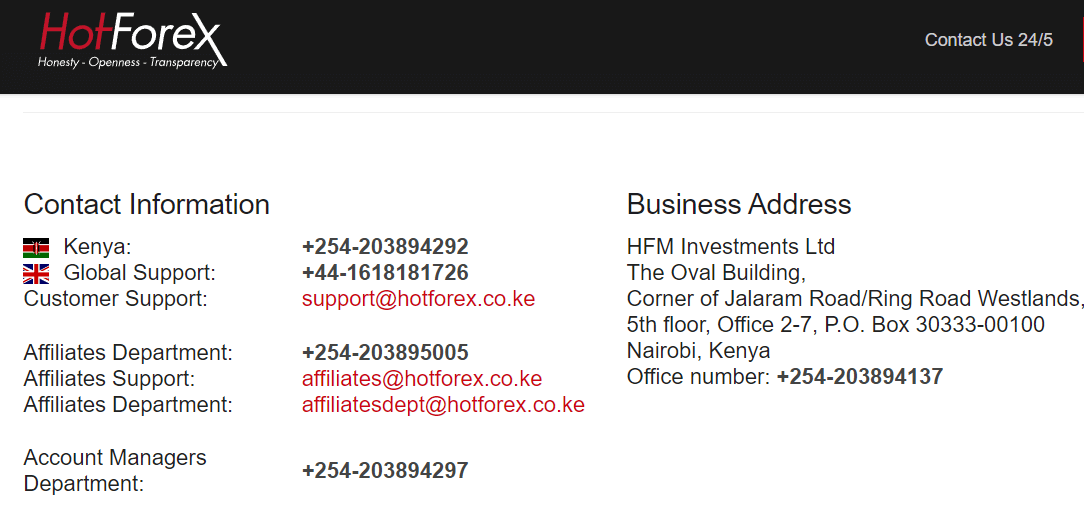 Frequently Asked Questions
Which are the CMA licensed forex brokers in Kenya?
There are 4 CMA licensed brokers in Kenya currently. First is EGM securities (operating as FXPesa Kenya) and the others are Pepperstone Kenya, Scope Markets Kenya & Exinity Capital East Africa Limited which operates the brand FXTM.
EGM Securities (FXPesa) is #1 in our list of recommended forex broker for Kenya. Scope Markets is a new Kenyan broker which stated its operations since May 2019.
There are only a handful of forex brokers regulated by CMA, but traders in Kenya should only choose brokers regulated locally with CMA for safety of your funds. Or choose any reputed foreign brokers like Hotforex, XM Forex which are regulated with top-tier regulators like FCA, ASIC, CySEC.
What are the best forex trading platforms in Kenya?
The most popular trading platforms in Kenya are the MT4 & MT5. All the popular brokers like Hotforex, Forextime provide trading on these two platforms with additional support for WebTrader and mobile devices.
MT4 & MT5 are popular and widely used not only in Kenya but around the globe as well. Both these platforms have features of fundamental and technical analysis tools, copy trading and other additional features.
Is online forex trading legal in Kenya?
Online forex trading is legal in Kenya, and is regulated by Kenyan financial regulator CMA i.e. Capital Markets Authority (CMA) of Kenya. It was founded under Capital Markets Act 1989. CMA's goal is to regulate and improve the safety of Kenya's capital market for local investors.
There are 4 Forex Brokers in Kenya regulated by CMA as of December 2020.
As per law, the brokers offering their services in Kenya are required to be regulated under CMA, which was done in order to safeguard the investors from fraudulent schemes and misconducts. In 2017, stricter regulations were passed in which CMA had to strictly oversee online forex business in Kenya. Capital Markets (Online Foreign Exchange Trading) Regulation 2017 required organizations to register under CMA.
Although it is required for brokers offering FX trading & CFDs, to be registered under CMA and have a local office in Kenya for the local citizens to be able to trade in a secure & regulated environment. But currently the market is limited to only 4 local providers i.e. EGM Securities (which operates FXPesa) & Scope Markets, PepperStone Kenya, FXTM (Exinity Group) and foreign brokers like Exness, Hotforex, XM are still very popular among Kenyan traders.
Which Forex Broker in Kenya has the lowest minimum deposit?
All brokers have different minimum deposit, but generally the some forex brokers have as low as $1 minimum deposit to open account. HotForex has a minimum deposit of Kes. 550 with their Micro account.
But it is advised to trade with a well funded account of at-least $500 or more & avoid the use of leverage (restrict it to 1:10 max.).
FXPesa has a minimum deposit of $5. Exness has $1 lowest deposit, and most other brokers accept minimum deposit in that range.
Which forex brokers accept MPesa?
The brokers XM, Exness, FXTM & EGM Securities (FXPesa), PepperStone Kenya & HotForex accept MPesa for funding. M-Pesa is a popular mobile money in Kenya. Most forex brokers that accept MPesa offer instant funding or deposit within few hours, so you should check with the broker first on their deposit time.