EGM Securities Review 2023
EGM Securities is one of the only few forex brokers authorized & regulated by CMA. But should you choose them?
EGM Securities is a popular forex broker among the traders in Kenya, one of the reasons being that it is regulated locally. EGM Securities is one of the only 4 Forex Brokers which is regulated by Kenya's Capital Markets Authority (CMA).
EGM Securities is a part of 'Equiti Group' which is a global group of FX & CFD companies in various countries. Their parent company has offices in the Middle East, North America, Europe and Asia Pacific regions.
They are a Non-Dealing Desk (NDD) forex broker, so they provide direct access to Interbank market exchange rates. An NDD broker provides trade executions using either Straight Through Processing (STP) or Electronic Communications Network (ECN) or, sometimes, a hybrid of both. These technologies allow customers to directly trade with interbank rates, without any intermediaries. Thus, there is no conflict of interest between the NDD broker and their customers, which is normally the case with market maker brokers.
EGM Securities provides trading on Forex, as well as trading CFDs commodities, indices, and metals.
Their support is fair, not quite good as some other brokers though. We will talk about this more in our review. Their customer service is 24/6, and they have educational offerings like webinars, blogs, and research tools.
EGM Securities Kenya Pros
Regulated with CMA in Kenya.
Low minimum deposit.
Offers Islamic account to muslim traders.
MT4, MT5 are available on all devices.
EGM Securities Kenya Cons
Not accepting USA clients.
Limited Trading Account Types.
Let's understand EGM Securities from every important aspect of trading, leading to the benefits & cons of choosing EGM Securities as your broker:
EGM Securities Kenya – A quick look
👌 Our verdict

#6 Forex Broker in Kenya

🏦 Broker Name

EGM Securities Kenya

💵 Lowest EURUSD Spread (Standard Account)

1.4 pips

(with Executive account)
📅 Year Founded
2016
🌐 Website
www.egmsecurities.com
💰 Minimum Deposit
$200
⚙️ Maximum Leverage
400:1
⚖️ Regulation(s)
Capital Markets Authority of Kenya (CMA)
🛍️ Trading Instruments
Forex Trading, CFDs on Shares, Commodities, Indices
📱 Trading Platforms
MT4 for PC, Mac, Web, Android
📒 Demo Account
Yes
💰 KES Base Currency
No
Is EGM Securities Safe?
EGM Securities is considered a safe broker for traders in Kenya as they are regulated by CMA. Retail traders should open account with their FXPesa Kenya brand.
They were the first locally regulated broker in Kenya. They are regulated by Kenya's regulatory body, Capital Markets Authority of Kenya (CMA). This is a very important aspect of EGM securities as it provides assurance to Kenyan investors with a sense of security due to regulations by a local authority.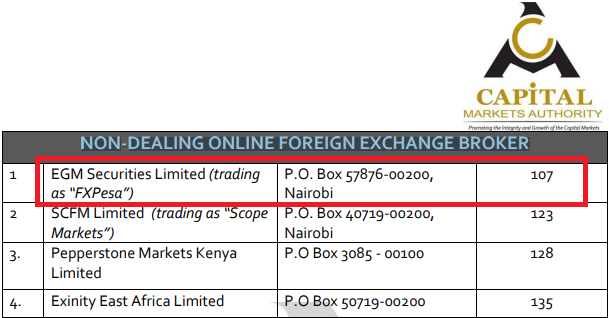 Their parent company, Equiti group, which includes sister company "Equiti Capital UK Limited," is regulated by top regulatory bodies, one of them being the Financial Conduct Authority (FCA) of the UK.
Safety of funds:
There is also the safety of funds with EGM securities as the clients' money segregation is a requirement from CMA. This means that all the client money is separate from the brokerage money.
The funds of EGM securities are also held with a Top Tier Bank. Thus, this would give additional assurance to the investors regarding their money being safe with EGM Securities.
EGM Securities Fees
There are mainly four types of fees that EGM Securities charges to its clients based on different cases:
1) Spread: Let's see what spread EGM Securities charges its customers for a standard EURUSD pair as per the different accounts they offer.
For their account type "Premiere Account", on a major currency pair like EURUSD, the typical spread/fees charged is 0.0 pips per standard lot. If we compare the same for their Executive account, they charge 1.4 pips per standard lot, making the spread lower for a Premiere account as compared to that of the Executive account.
However, the Premiere account is an ECN-type account and an additional commission is charged with the low spread, which we will see in the next section.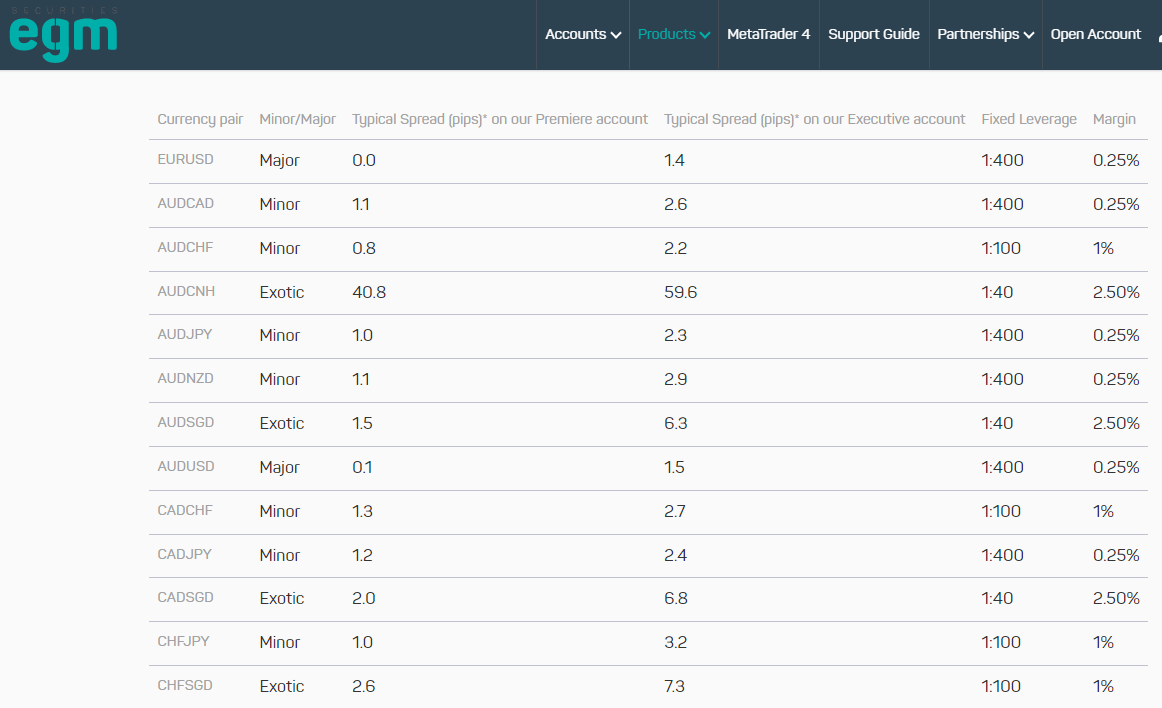 Their average spread is a bit higher than other brokers like XM & Hotforex.
2) Commission(s): A commission of US$7 per standard lot round turn is charged on the Premiere account (A standard lot round turn means, for a standard lot, US$3.5 is charged for opening the trade and US$3.5 for closing the trade).
3) Overnight Trade Charges: All the brokers charge a rollover fee for the positions which are open overnight.
4) Deposit and Withdrawal Fee: The deposit fee is not charged by this broker. The withdrawal fee is also not charged by the broker except for an international withdrawal fee for withdrawals through wire or bank transfer. The charge is 1650 KES or US$16.50.
5) Inactivity Charges: EGM Securities charge an inactivity fee after an account is inactive for 180 calendar days or more. The fee payable or closure of inactive accounts is intimated to the customer in advance as per the rules.
We found the fees and other charges by EGM Securities are in line with the market rates and in fact, but a bit higher to be fair in comparison against the other brokers, when its other features of NDD broker and local regulation are taken into consideration.
Account Types at EGM Securities
EGM securities provides a Demo account apart from the two types of main account offerings.
The Demo account is a trial account with dummy money that can be created and used for practicing one's trading strategies and understanding.
There are many advantages of the Demo accounts. These are just like live accounts with real market pricing, and unlimited usage, access to the MT4 platform.
A free demo account can be opened by giving simple information like name, country of residence, phone number, email address, and the currency which you would want to trade-in. This demo account option is quite flexible as the details provided can be changed later if the customer preferences change.
Live Accounts
Now let us look at two main account types, Executive and Premiere accounts for a benchmark currency pair of EUR/USD.
Below is the comparison table of the 2 Live Account Types at EGM.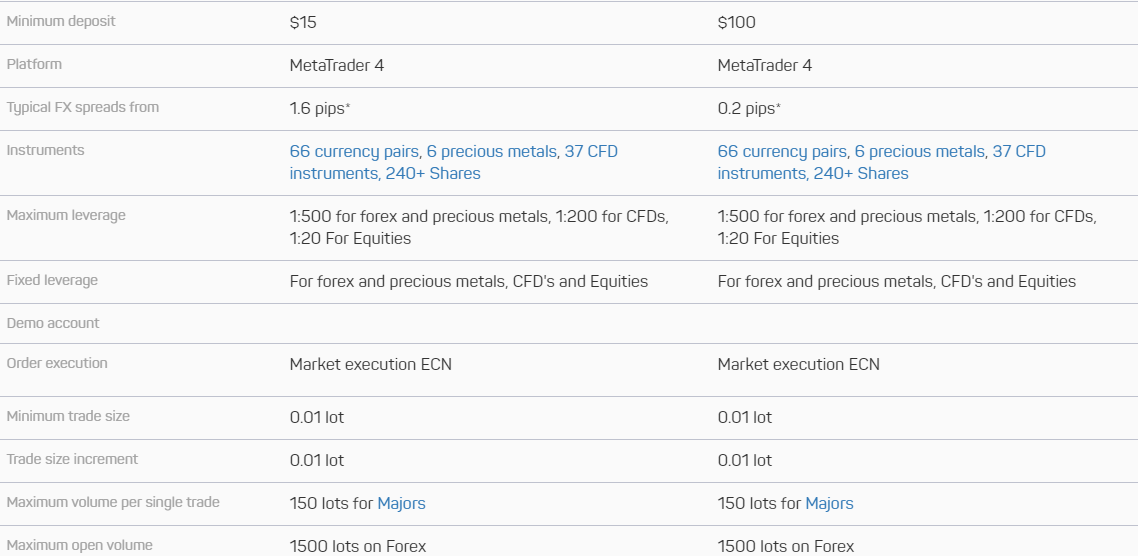 An Executive Account has a minimum deposit requirement of US$200 and the leverage is 1:400 for forex trading. The spread is as low as 1.6 pips per standard lot for EUR/USD. There is no commission charged in this account.
For a Premiere Account, the minimum deposit of $5000, and the typical spread charged for a standard lot of EUR/USD pair is 0.2 pips. This account charges commission of $7 per standard lot round turn as the spread is quite low. The minimum deposit with their ECN-type Premiere account is quite high compared to other ECN brokers.
Both these accounts have the same 61 currency pairs available for trading, which are a mix of majors, minors and exotics.
How to open account with EGM Securities
Step 1) Visit to home page of EGM Securities, and click on Open Account button at top of the page.
Step 2) After that, enter the basic details like your full name, address, country, etc.
Step 3) At last, you need to uploading the ID proof and address proof for verification purposes.
Step 4) Now you need to fund your account for start trading.
Trading Instruments at EGM Securities
EGM Securities have quite a few trading instruments, although other brokers offer more CFDs.
The range of instruments EGM Securities provides is way less than its competitors like XM or Hotforex. Let's see the instruments available with EGM Securities:
Forex: They provide 61 currency pairs of in Forex. They have a transparent fee structure. The leverage, margin, and spread are mentioned for all the majors, minors, and exotics. There is holiday schedule details on the website and also a support desk for any information or changes in the content.
CFDs on Indices: Indices are divided into two parts of rolling Indices and Futures Indices. There are 11 Rolling Indices out of which 10 are major rolling Indices and one is a minor rolling Index. There are 12 Future Indices options available out of which there are 10 majors and 3 minors. All contract specifications are available with the full contact details like margin, fixed leverage, spread, contract size, commissions, trading hours. All this information is important for trading purposes. For the Futures Indices, the expiry month and details are also provided in regards to the expiry contracts.
CFDs on Commodities: Commodities are also divided into two types. The first one is rolling commodities. The commodities available in the rolling commodities are Silver, Gold, Oil, and Platinum.
There are seven contracts available in the rolling commodities out of which only one is a minor. Rest all are majors. All the information provided for the rolling commodities is applicable to the executive account holders only.
The next is Futures commodities. There are nine contracts of which only four are majors, the rest are minor contracts. The Futures commodities have Silver, Gold, Oil, Copper, Gas, Coffee, Cotton, and Cocoa.
Same as Indices, all the contact information is clearly provided for the commodity contracts as well. The expiry calendar is also provided.
Shares CFDs: There are CFD shares available with competitive leverage to increase the exposure of the clients. There are 75 top global company shares available to trade from.
The details of what is a share, along with stock CFDs, calculations of profit and loss with examples are clearly explained. There are long and short options available for CFD stock trading. Financing rates are also available. The trade details of each share like its margin, leverage, contract, commission, and trading hours all are available distinctively.
All in all, there are good options of trading instruments with EGM Securities, though there are fewer trading heads which are available.
EGM Securities MT4
EGM securities have MT4 as their platform. MT4 can be accessed on desktop, mobile, and web trading.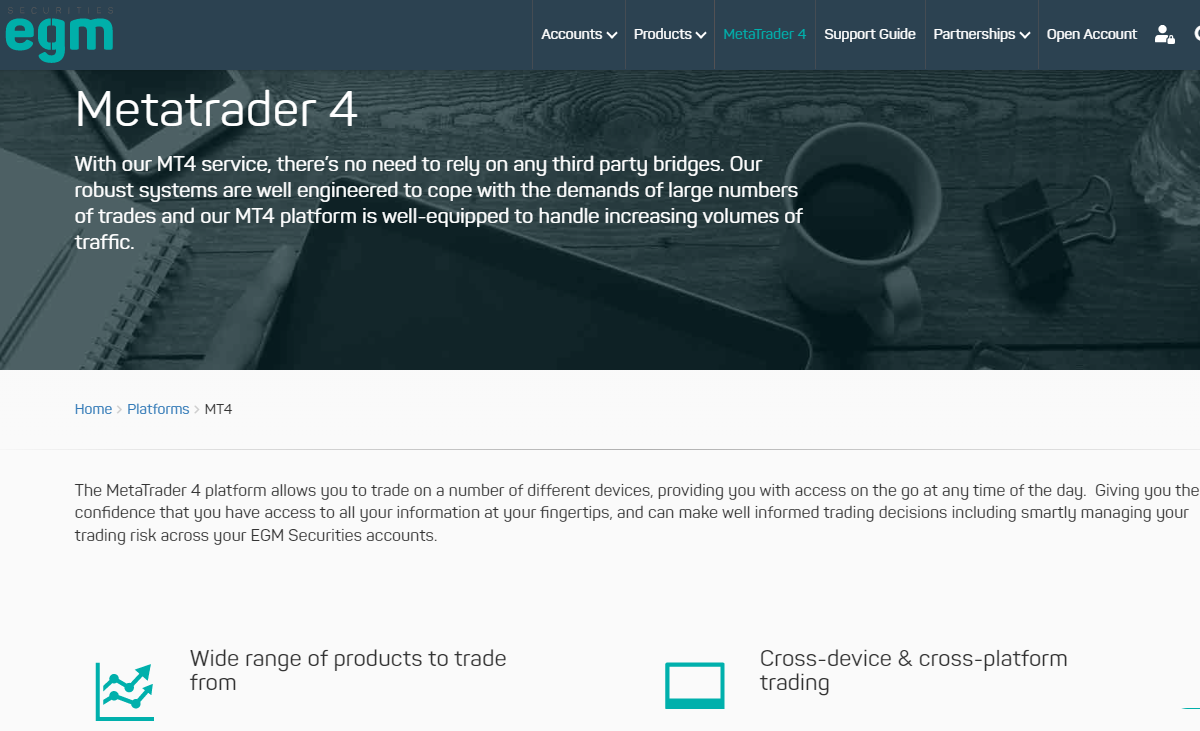 They offer only MT4 platforms for all devices. They don't offer the latest platform MT5 though.
Do we Recommend EGM Securities Broker?
Yes, we do recommend them for traders looking to trade with a locally regulated broker.
EGM Securities is regulated by the local body of Kenya, the CMA. This is the first and foremost thing why we recommend EGM Securities.
Even though they have a limited number of trading instruments, but all the details of the contracts, type of instruments, holiday calendar, calculations, etc. are given in a very clear and concise manner on their website. This shows that EGM Securities believes in keeping everything transparent.
Although their live chat is somewhat slow at times, overall the support is more extended than many other brokers in the market, with the support available for 24/6. A local phone number is also available to reach out to the broker.
EGM Securities has other features like 61 currency pairs, and multiple CFDs on MT4 platform.
EGM securities has other positive features like cross-device and cross-platform trading, Expert Advisors capabilities of MT4 platform, data-driven decision making through charting packages and technical indicators and other such valuable research and analysis tools which are vital for your trading and can make it an enriching experience.
EGM Securities has its limitations: like limited trading instruments, higher fees for the executive account, high minimum deposit and commission charges for Premiere account as compared to other brokers that offer low spread accounts.
But overall, we recommend EGM Securities as a good option if you are looking to specifically trade with a locally regulated broker with a local support, good trade execution.
EGM Securities FAQs
What is the minimum deposit at EGM Securities?
The minimum deposit for opening Live account with EGM Securities is $200 with their Executive account type. Or traders can open account with their Retail brand
FxPesa
for $5 minimum deposit.
Does EGM Securities accept MPesa for funding & withdrawals?
Yes, Kenyan traders can deposit & withdraw funds in their EGM Securities trading account via MPesa. They also accept local bank transfer in KSh.
Is EGM Securities regulated by CMA is Kenya?
Yes, EGM Securities is licensed by CMA for offering Online Forex trading under license no. 107. They were the first 'Non-dealing Online Forex broker' licensed in Kenya. Only
4 forex brokers are licensed by CMA
in Kenya currently in 2022.